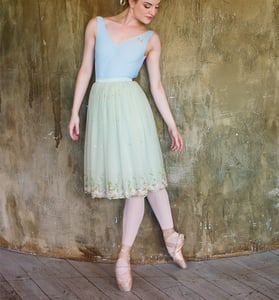 $

90.00
The feminine skirt is made of 2 layers of pastel green tulle dotted with delicate flowers. The scalloped hem is detailed with intricately embroidered floral motif.
Fully lined in Japanese satin, with a sage-green waistband. Finished with a hidden side zipper and half-pearl button closure.
Measures 26" inches long. Handmade in Singapore.
Please note that this is a ready-to-wear fashion piece and is not recommended as studio wear.
Size 1 - 24 - 26" waist (fits US sizes 0 - 2)
Size 2 - 26 - 28" waist (fits US sizes 4 - 6)
Size 3 - 28 - 30" waist (fits sizes 8 - 10)